At Container Service Corp., we are dedicated to providing safe, superior products. Annually, our plant is audited to SQF Food Safety Standards.
Their audit of our company involves on-site inspection to evaluate:
Operational Methods and Personnel Practices
Maintenance for Food Safety
Cleaning Practices
Integrated Pest Management
Adequacy of Prerequisite and Food Safety Programs
What does our SQF Certification mean to you?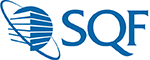 It means that independent auditors have inspected our facility, our processes and our product and they have certified that CSC meets the highest management and manufacturing standards. It translates into a product you can count on and a box you can be proud to have your name and logo printed on.